Dr. Pill
The best place to manage all of your medical needs.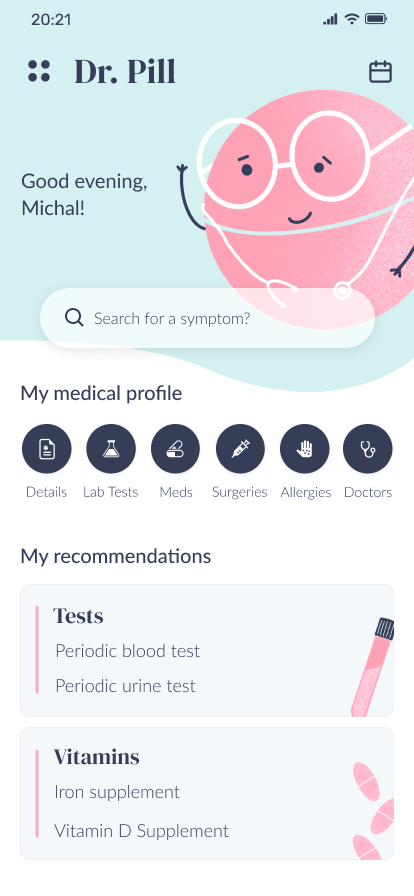 Role
Research | UX | UI | Illustrations | Prototype
Tools
Figma | Illustrator | Procreate
Project type
Final academy project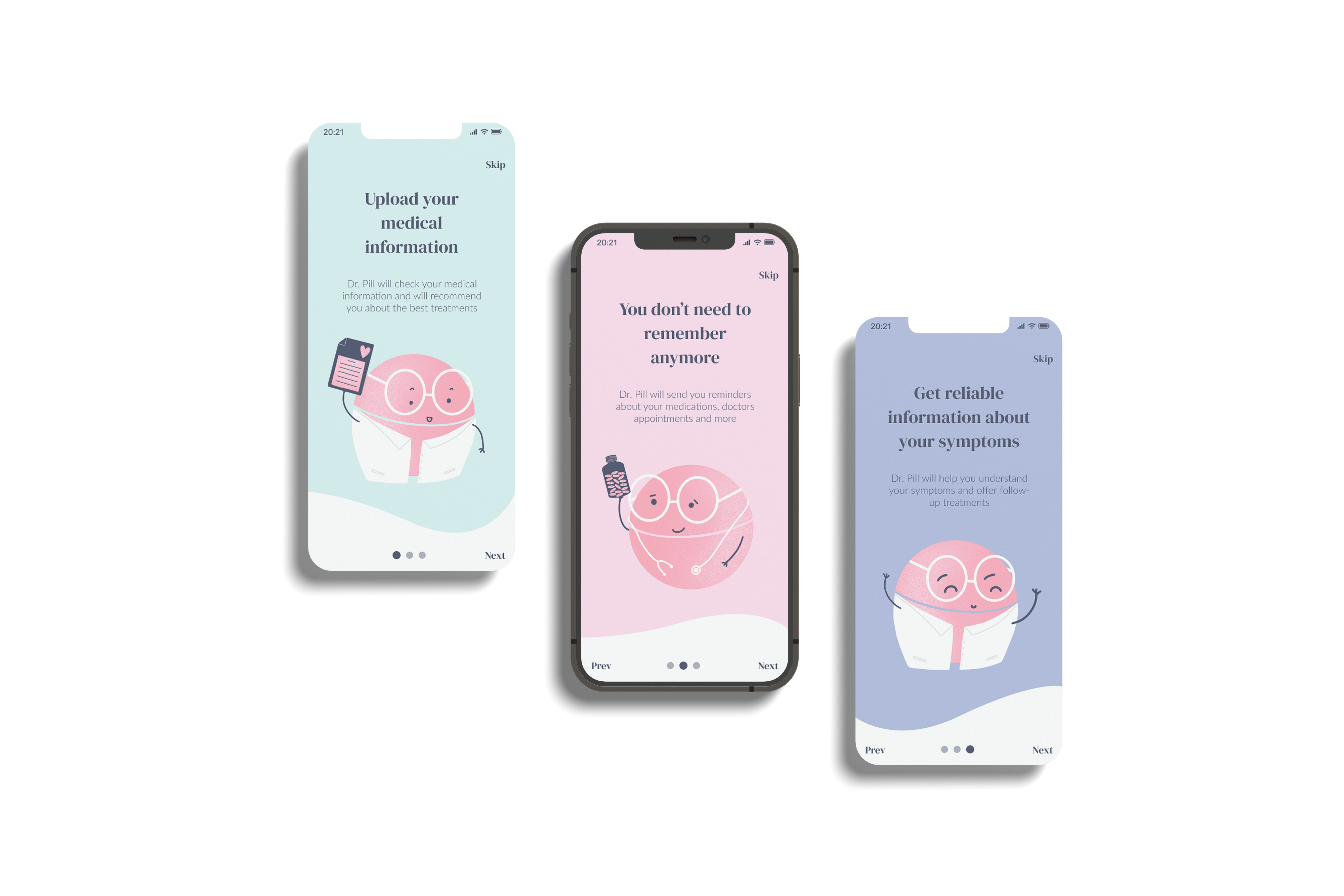 Overview
Dr. Pill is a one-stop-shop health care app, which enables users to control their medical information and paperwork along with reminders and notifications for prescriptions and doctor's appointments.
Dr. Pill facilitates a dedicated profile per user, containing all of the information it needs for an early detection of diseases or various health issues.
The problem
The medical field is a vast ocean of information and knowledge, far beyond the capability of the human brain to hold
The medical information available in the world-wide-web is often confusing to the ordinary person, usually consisting of overwhelming amounts of unprofessional diagnoses
Medical care\treatments often require strict usage and persistency

The solution
Utilizing the computational power of the cloud and intelligent algorithms to process and analyze large amounts of medical information and index it for future use.
Combining general medical information with real, user-provided medical data to generate on-point medical diagnosis, per user described symptoms.
A dedicated system to sustain a strict medical regime by smart notifications and reminders.

Competitive analysis
To gain a better understanding of the market, I reviewed some of the most popular apps in health care.
Focusing on main features, flows and UI design.
Strengths
Medical Information – relying on plenty of medical information and research papers

Chatbots – utilizing chatbots to ease user interactions

Datapoints – aggregating millions of user-provided data to enhance analysis

Location based – offering medical treatment and medication prescriptions in close proximity
Weaknesses
Personalization – medical information is not personalized to the user

Not Comprehensive – the app market does not currently offer a whole product that combines all features and services

Boring UI – dry and uninnovative UI

Cognitive overload – most apps are too overwhelming, lots of unneeded information

Unintuitive Flow – lack of UX critical thinking leading to confused users
Must have features
Managing the user's medical information

Medical observation and diagnosis tailored to the individual

Custom made and specific recommendations

Doctor's appointments and Prescriptions reminders
Personalization
Non-Personalized medical data, causing confusion and frustration.
Profile & Registration
The user profile was very plain and generic. Additionally, the sign-up process was time-consuming, not allowing the users to fill it gradually.
Lack of feedback
Most chatbots diagnoses were too long and didn't provide an indication of progress, frustrating the users and resulting in unfinished onboarding process.
To gain a better understanding of the target users, I conducted a preliminary survey.
I obtained some information about the health care habits and concerns of 52 participants by sending out a questionnaire.
90%
Use a medical healthcare app
84%
Search their symptoms on Google
68%
Would like to know if they're in a risk group
90%
Use phone reminders for Pills and doctor's appointments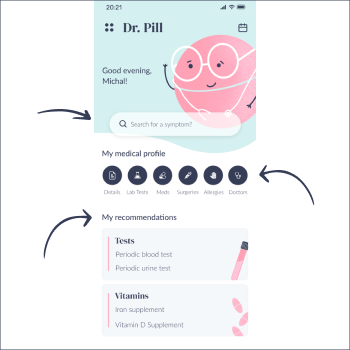 Holistic
Providing overall medical information along with actionable usability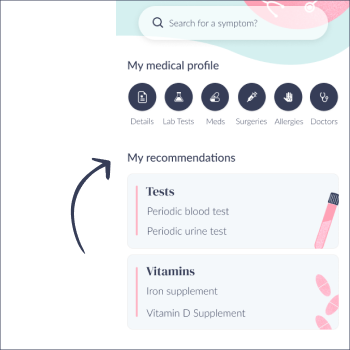 Personalized Experience
Diagnoses and recommendations are generated based on the user-provided information.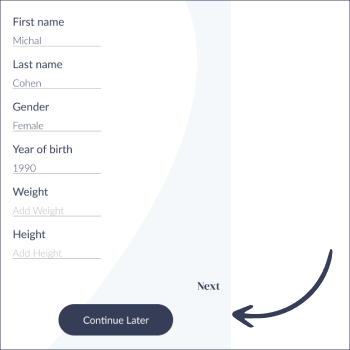 Intelligent Onboarding
Registration and the medical profile creation should be procedural. The user can edit and add information at any time.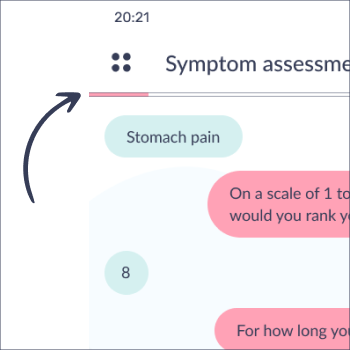 Feedback based process
In order to prevent the user from abandoning the process halfway through, the chat bot should provide feedback on the medical diagnosis process.
Personas & User scenarios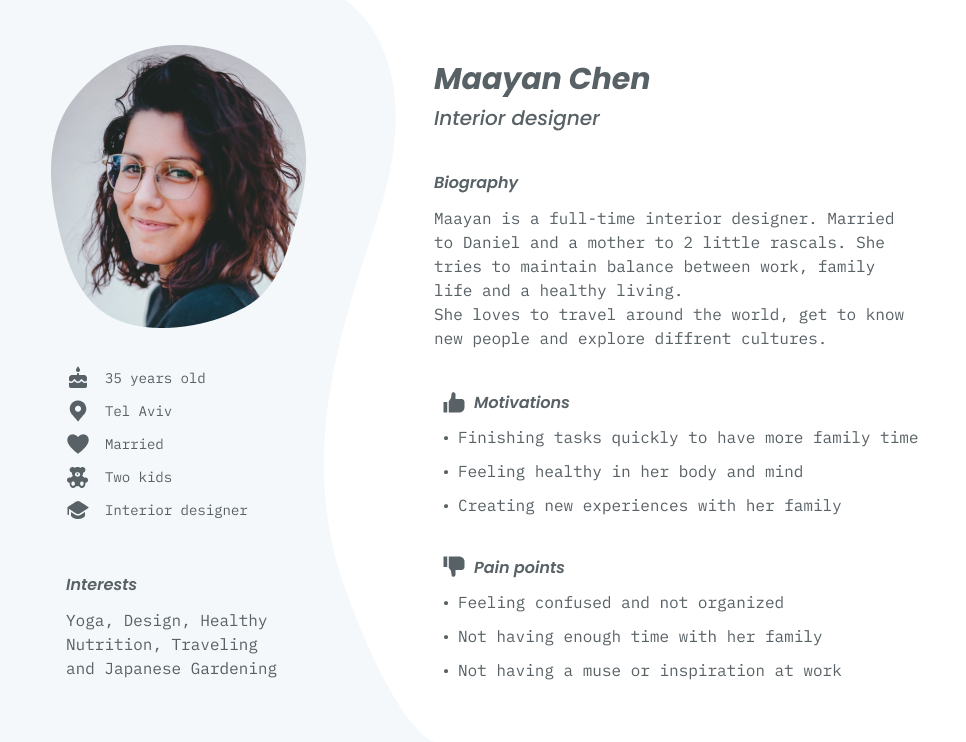 "My mind is so busy, there's no chance I can remmember anything without my reminders"
In a busy schedule such as Maayan's, it is hard to keep track of all of the doctor's appointments, prescriptions and vitamins usage so she resorts to messy, unmanaged reminders on her phone.

Using Dr.Pill, Maayan would be able to document her medical profile and receive specific, personal medical recommendations for a healthy living. Also, she could manage all of her medical reminders and notifications in a dedicated place.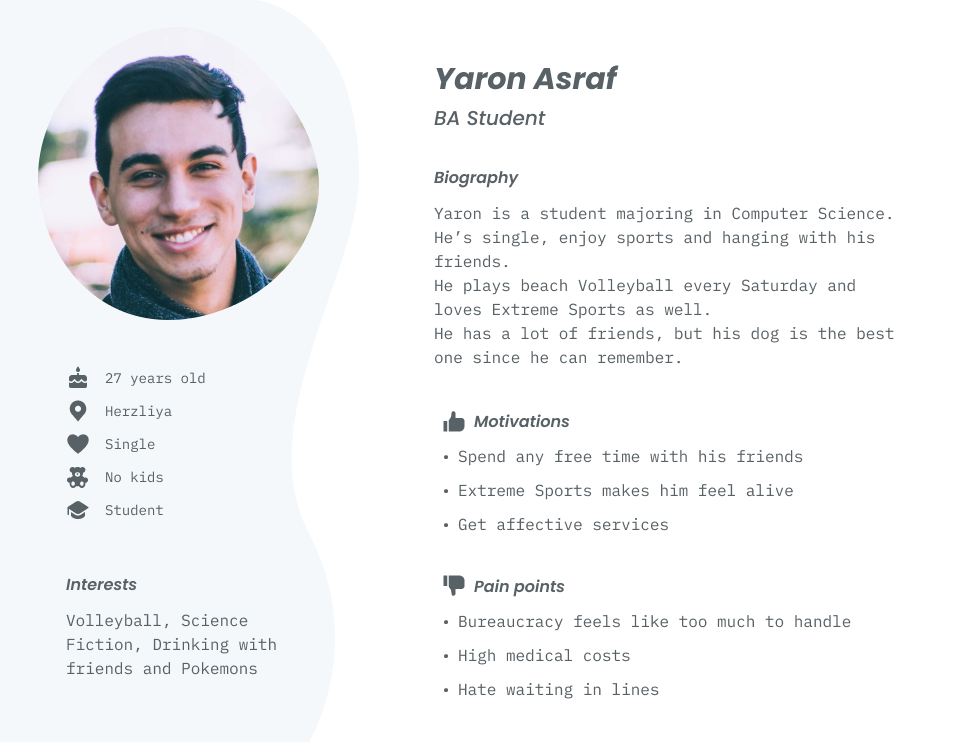 "When I'm in pain, the first thing I do is search it on Google, and the second thing is regrating I searched it on Google"
Sometimes Yaron gets hurt during his Volleyball sessions, or experiences a "weird" pain – so he automatically looks for assistance and guidance on Google.
Most of the times, what he finds stresses him out even more, to the point he regrets looking online.

Using Dr.Pill, Yaron would look up the symptoms he is experiencing in the built-in intelligent chat and receive a valid, on-point medical information and a specific diagnosis with medical recommendations for further care.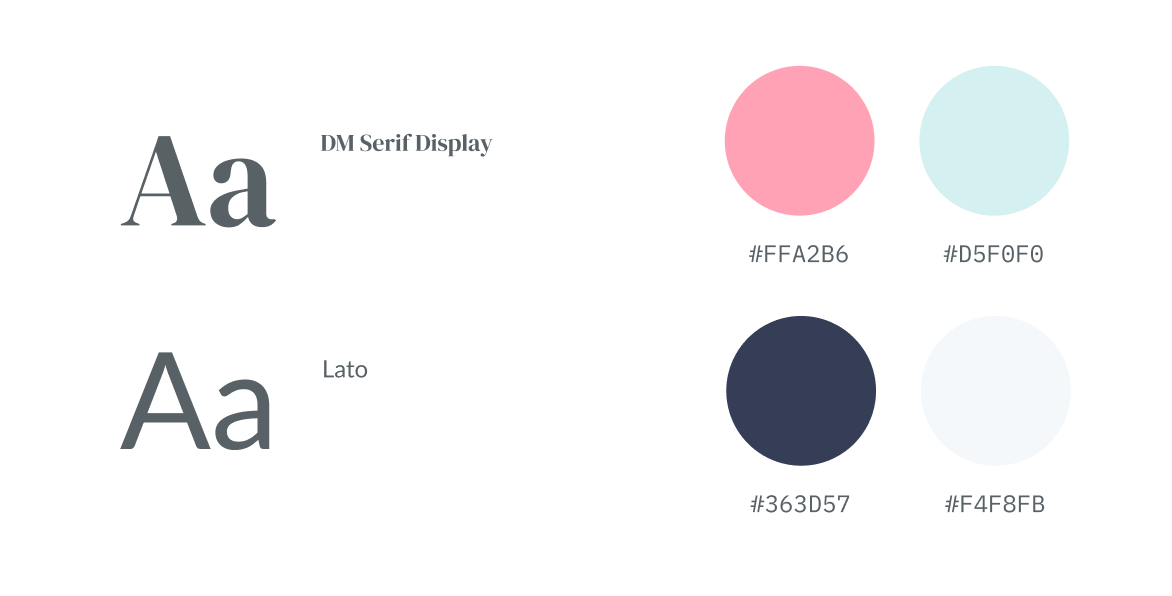 It is impossible to replace a human doctor, but in today's instant culture, most people will want to understand their symptoms before consulting a doctor, so it is important to have a reliable and reputable source.

An ideal application would use information from official health care systems, with the user's approval, and be based on their content.

Potential future additions include academic articles on various topics, an option to talk with a doctor online at the end of the diagnosis